Mark J. Schnuck
​Executive Chairman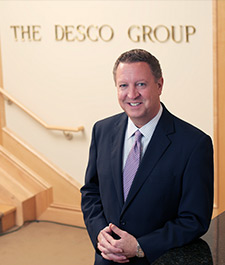 Mark is the founder of and currently serves as Executive Chairman of The DESCO Group. Mark began his career with Schnuck Markets, Inc. (SMI). After serving in a variety of positions at SMI, Mark became Senior Real Estate Officer in 1989.
In the early 1990's, Mark developed a vision to create a full-service commercial real estate development and investment management company. In 1993, Mark founded this new real estate company, The DESCO Group. The DESCO Group currently manages leases, develops and acquires property on behalf of institutional and private investors.
Under Mark's leadership, The DESCO Group has acquired, developed and redeveloped over $1 billion of property. Among the company's major accomplishments was the redevelopment of the Old Post Office in downtown St. Louis. This development has been integral in the major redevelopment taking place throughout downtown St. Louis.
In 2000, Mark formed a sister company, NAI DESCO, to provide real estate brokerage and management services to third party clients. This company is a team of experienced commercial and industrial brokers serving the City of St. Louis and 13 surrounding counties in Missouri and Illinois. The firm offers clients access to more than 3,000 NAI commercial brokers in more than 300 markets worldwide.
Mark belongs to numerous organizations and serves on several boards throughout the St. Louis Region. He is Commissioner and former Chairman with the St. Louis Zoological Park and former Chairman of the St. Louis Zoo Board of Trustees. He serves on the boards of Community School as President and John Burroughs School, and he has also served as Chairman of the Fair St. Louis Foundation and Chairman of the Salvation Army Advisory Board. In addition, Mark is a member of the International Council of Shopping Centers (ICSC) and the St. Louis Association of Realtors (SLAR). Mark received the Levee Stone Award in 2007, and along with his family was named Citizen of the Year in 2010, in light of his family's outstanding commitment to the St. Louis region.
Mark graduated from Maryville University in 1980 with a bachelor's degree in management.