Join Us
Culture
Our people make DESCO a great company. We are passionate about our Mission and Values, which are our guiding light in interacting with each other as well as our tenants, investors, vendors and the communities we serve.
Our Mission is to develop potential and enhance community so that people are valued and connected.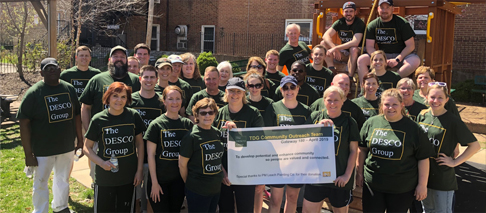 We do this through:
Seeing people as people. Building and fostering relationships. Listening to the story.
Taking pride in the effort. Owning it. Minding the details. Exceeding expectations.
Teaming up. Contributing. Giving credit. Sharing knowledge.
Embracing challenges and creating opportunities. Making it happen. Showing our grit.
Benefits
The DESCO Group has a competitive benefits and compensation program.
The DESCO Group encourages all employees to plan for their futures through our 401(k) plan which includes an employer and profit sharing component. Our benefits package includes medical, dental and vision insurance, company-paid short-term and long-term disability plans, and life insurance. We also offer holidays, personal time off (PTO), parental leave, and bereavement time.
The DESCO Group is an Equal Opportunity Employer. DESCO does not discriminate on the basis of race, religion, color, sex, gender identity, sexual orientation, age, non-disqualifying physical or mental disability, national origin, veteran status or any other basis covered by appropriate law.